Minnesota Marriage Amendment to Ban No Same Sex Gay Marriage Election November 2012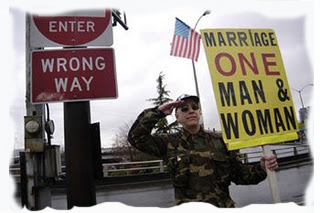 Minnesota Marriage Amendment to Ban No Same Sex Gay Marriage
In November 2012, Minnesotans will vote on a proposed constitutional amendment that would define marriage as between one man and one woman.   Our state House and Senate have placed a constitutional amendment on the November 2012 ballot that will define marriage in the State of Minnesota as the union between one man and one woman.

Regrettably, the media and some secular commentators have chosen to mischaracterize this measure as anti-gay, mean-spirited and prejudicial. This is not the case or the intent behind the initiative. The Minnesota Catholic Conference, made up of the seven Catholic bishops from the state, support this amendment not for prejudicial or political reasons, but rather for reasons that are theological, biological and pastoral.

Theologically, the definition of marriage predates any government or religious denomination. Bible passages say it reflects Gods plan for man and woman to share in his creative power of bringing new life into the world (Genesis 1:27-28). Jesus ratifies this in Matthew 19:8-9. Similarly, the very biological, not to mention spiritual, complementarity of the two sexes defines the reproductive nature of their relationship which, in turn, enhances the well-being and joy of that union.

Children flourish best in the context of having both a mother and a father. Every scientific study confirms this reality. We know that many single parents strive mightily to raise children in as normal a context as possible; and many do an excellent job at this. Nevertheless, boys and girls develop better if they have the influence of a mother and a father, living in the same home.

Opposition to the Minnesota Marriage Amendment

Minnesota Democrats have been vocal in opposing the proposed amendment, and a Change.org petition was made to encourage the party to fight the measure that could be placed on the ballot. According to the petition: "Please be clear about where the DFL Party stands on LGBT equality. Please express your concerns about the looming dangers to LGBT equality in Minnesota. Please call all DFLer;s in MN to become concerned and active for the equal rights of LGBT Minnesotans.

Proponents of the amendment and those who oppose it have a long ground war ahead of them as they try to convince voters that an amendment would either help or hurt families. If the early skirmishes are any indication, both sides already are on the defensive.
The marriage battle is expected to be a big, expensive fight. The first sign of how big the stakes are was a series of clashes this summer before the Minnesota Campaign Finance Board. Pro-amendment groups like the Minnesota Family Council that pushed hard to place it on the ballot, argued that releasing the names of their financial contributors would make them vulnerable to harassment and retaliation from the other side.

At the June 14 meeting, board member Andy Luger, an appointee of Gov. Mark Dayton, questioned Tom Prichard, president of the Minnesota Family Council about the perceived threat.  "Other than your intuition, your instincts, your sense of what might happen, do you have information that that is going to occur?" Luger asked.  "Well, I can't say it's going to happen until it happens, but I think you look at what's happened in other states - California and other situations where that has happened, and even if there isn't an actual incident, the chilling effect of speech, or criticism or other things," Prichard said. "I mean, even short of physical attacks on violence or something like that."
Minnesotans Companies Opposed to Gay Marriage in MN
On Nov. 6, Minnesotans will vote on a proposed constitutional amendment that would define marriage as between one man and one woman in the state constitution, reflecting existing state statute. The following companies have come out in favor of the amendment. (Click here for a list of companies that oppose the amendment.) Do you know of a company or business leader who's taken a stand on the issue—either for or against?

Companies That Support the Marriage Amendment
Bethel World Outreach Church, Inc. Genadek Landscaping and Excavating, Inc. Hmong Village Shopping Center Northland Counseling Services Radio Bendicíon Solid Rock Ministries, Inc. Spanish Now The Marden at Rivers Edge
Pro Gay Companies That Oppose the MN Marriage Amendment
2d Cloud Adeline, Inc. Salon - Duluth Advance Consulting Affina Alexander Law Office, PA Allen J. Oh Law Office AM 950 The Progressive Voice of Minnesota Aqua-rius Consulting Arrowplane Art With a Point At Sara's Table Chester Creek Café, Duluth Aurora Consulting Baillon Thome Jozwiak Miller & Wanta LLP BD Portraits Beno's Deli Benjamin Leach Farmer's Insurance Agency Berens & Miller, PA The Bibelot Shops Big Table Studio Billy Scott Farmer's Insurance Agency Blooming Grounds Coffee House Bluestem Construction Blue Heron Coffeehouse Bluff Country Co-Op The Book Shelf The Bortel Firm, LLC Buchholz & Burke, PLLC Burton Art Studios Butter Bakery Café Buuji, Inc.
Carol Lewis, Attorney at Law Catalyst Studios, Inc. Chewzy Dogs, LLC dba Just Dogs! Gourmet Chinese Foo Dog Club of America Chitwood & Davey PLLC Christopher Straub Computer Dock Cooper & Reid, LLC Dawnview Coffee Co. Design Forty Five Dibs Café DriveTrain Agency, LLC Dunwold & Peterson PA EatonGolden, Inc. Ed's No-Name Bar of Winona Electric Fetus, Duluth Evidence Based Specialists Evolutions Expressions of Wellness Massage First Avenue & 7th Street Entry First Tech Flint Law
Frew Law Office Fun City Dogs Gavin/Solmonese, LLC Gema Cards and Coasters
General Mills Goldstein Law Office, PA Graywolf Press Great Lakes Window & Siding/Owens Corning Basement Finishing System of Minnesota H&B Gallery Halunen and Associates Heltzer & Houghtaling, PA Hannah Johnson Fabrics Herbal Turtle Farm Honest-1 Auto Care Iconic Images dba Venture Photography Imagehaus Inner Peace Therapy & Yoga International Kennel Society ipHouse J Lydia Salon J One, LLC Jansen & Palmer, LLC John Sonnek & Son Photography JoAnn Thomas Classical Homeopathy Johnathon Monto Films Just Food Co-op
Kane Consulting Kate Sommers Photography Keller Williams Realty - Shannon Lindstrom Khazana Imports Kolter Bicycle Landkammer Designs Laughingstock Designs Law Office of Kelcey Patrick-Ferree The Law Office of Jerry A. Burg LEGALnudge, LLC Lehmann Consulting, Inc. Libera Knapp, PA Lillemo and Associates, LLC Linder Dittberner & Bryant, Ltd. Lockridge Grindal Nauen, PLLP Lucy Coffee Cafe Lunalux
Mandala Center for Wellness MandalaTea.com Maschka, Riedy & Ries Law Firm McLooney Tunes MediaBeacon, Inc. Merchant Services Minnesota Middle English Midwest Quaker Resources Milkweed Editions Miller Riedy & Ries Law Firm Miller O'Brien Cummins, PLLP Min Enterprises Photography, LLC Minnesota Life Celebrations, LLC Minnesota Machine Women's Football Team Minnesota Vixen Women's Football Team Minnesota Women's Press Minnesota Playlist Mobile Pet Doctor Moxie Java
My SCENE City LLC NADA advertising Nichols Kaster Attorneys at Law Nicklay Agency - Farmer's Insurance Nicole Houff Photography Nilan Johnson Lewis, PA Nina Hale, Inc. Search Engine Marketing Nokomis Pet Clinic Northern Lights Counseling Center Northern Sun Merchandising Oppenheimer Wolff & Donnelly, LLP Orion Corporation of Minnesota Oursell, Inc. Paperbacks and Pieces Paul Law Firm Peace Out Clothing Co. Peapods Natural Toys and Baby Care PETERSSEN/KELLER architecture Picaresque II
Pieces of the Past PilotVibe, LLC Pipe Dream Toys Pretty Things on Third Price McCluer and Plachecki Proud Marriage Rebel Ink Printing Reitan Law Office Reiter & Schiller, PA Relaxation Zone Renovation Systems, Inc. Right at Home Robins, Kaplan, Miller & Ciresi, LLP The Rochester Girls, Inc. ROR Tax Professionals Rox Minneapolis Jewelry RussellCo Rx 4 Success Sacred Panda Sala Yoga The Saloon SevnthSin Seward Co-op Grocery and Deli Shannon Porter Photography Sidewalk Dog, Inc. Skelly Video Productions Smart Set, Inc. Smith Studio Solera Restaurant and Event Center Song Hong & Associates, Inc. Sorella Wine & Spirits St. Jude Medical Streater & Murphy, PA The Suicide Commandos Punk Rock Band Tatü Royale Thomson Reuters Town Life Magazine Triangle Accounting Trellage-Ferrill Architecture & Art Valley Bookseller Warehouse Liquor, Winona Welna II Hardware, LLP Wermerskirchen & Blomquist, LLC Westrums Whole Foods Co-Op, Duluth
Wilde Roast Café Wildhearts Hedgehogs Wolf Rohr McKenzie & Gemberling, PA Yarnology

Business Leaders Who Oppose the Marriage Amendment Marilyn Carlson Nelson, chair of Carlson Bill George, former Medtronic CEO Ken Powell, CEO of General Mills Daniel Sparks, CEO of St. Jude Cynthia Daube, owner of Daube's Cakes & Bakery John Taft, head of RBC Wealth Management in the U.S. Charlie Zelle, president and CEO of Jefferson Lines and chair of the Minneapolis Regional Chamber of Commerce board
Robert Bentley
WAY-FM Christian Radio
What does the Bible say about abortion
Strong's Concordance with Hebrew and Greek Lexicon
John Calvin Marriage Family
Don't Ask Don't Tell, Stop Obama Gay Repeal
Pro Life Candidates Pro Choice
Mississippi Tea Party Candidates
New York and Gay Marriage
Ron Paul Marriage Gay Rights
North Carolina Marriage Amendment
Christian Bumper Stickers Bible Based
North Carolina Marriage Amendment
Marriage Amendment in North Carolina